Contact Our

All Nevada Insurance Office

Marc Van Ryne started as an agent and was the first franchisee to start with ANI.

I started out as an agent with ANI and when the company decided to move into franchising, I didn't hesitate because I had an opportunity to really get to the know the owners and their knowledge and passion for the business had me sold.

I love the concept of being an Independent Broker with the ANI franchise system because I am able to help all people and businesses looking for insurance. I took a leap of faith, trusted my instincts and created a game plan to win.

I would advise others looking to be a part of ANI to do the same. Don't wait for anything to come to you, go out and get it yourself!

As the first franchisee I have only seen the company grow and I can truly say that I am proud to be a part of a great company!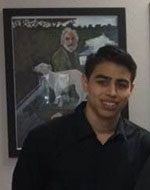 Anthony Van Ryne
Customer Service Representative
I am currently a Customer Service Representative for my family agency but expect to be a licensed agent by 2021. I love that we have an organized work environment and that I am able to have weekends and holidays with my family. When a customer works with me, they can expect a quick response with top notch customer service.
Hobbies: Basketball, Watching Sports, Fantasy Football
---
Request a Quote
Get auto & home quotes online in less than 5 minutes. Request other quotes and hear back from us within 24 hours.