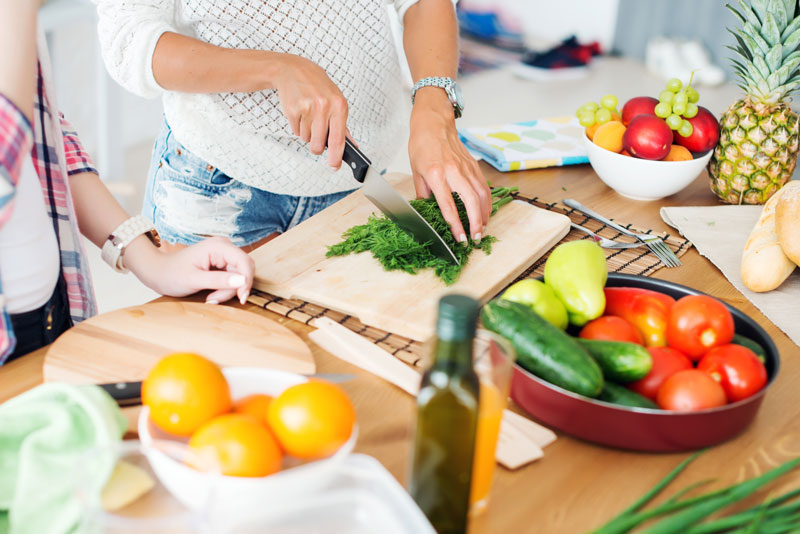 Whip up this delicious paella for springtime eating!
Now that spring is here, it's time to indulge in the wonderful produce that the season brings. Perfect for the season is paella! While it isn't a ready-in-ten-minutes meal, it is well-simmered, full of flavor, and can be used for lunches, dinners, and lunches again! Check out this delicious recipe for vegetable paella.
Ingredients:
1 tablespoon olive oil
2 teaspoons salt, divided
2 green garlic shoots or 1 clove of garlic, chopped
A quarter of a red pepper, sliced
8 asparagus, sliced
7 white button mushrooms, quartered
1/2 cup tomato purée
4 cups vegetable stock
3/4 cups water
1 spring of rosemary
1 bay leaf
1/4 teaspoon smoky paprika
3 tablespoons soy sauce
Pinch of saffron
12 oz of paella rice
Quartered artichoke hearts
Sun-dried tomatoes
Lemon slices 
Instructions
Using a paella pan, pour the oil into the middle of the pan and sprinkle 1 teaspoon of salt in a circle around the oil. Heat over medium heat and add the green garlic shoots or garlic to the oil. Fry until soft and translucent, then remove from pan and reserve.
Bring about a quarter of the salt into the oil and add the red pepper to the oil. Fry until crisp-tender. Remove and reserve with the garlic.
Bring another quarter of the salt into the oil and add the asparagus. Fry until crisp-tender, then remove and reserve with the pepper.
Finally, bring in the last bit of salt to the oil and add the mushrooms. Fry until beginning to soften, then remove and reserve with the other vegetables.
Add the tomato purée to the pan and simmer over high heat for about 2 minutes until reduced and very thick. Add in the vegetable stock and water and bring to a boil. Add the rosemary, paprika, and soy sauce and boil for 5 minutes. Reduce heat to minimum and add the saffron and 1 teaspoon of salt. Leave for 30 minutes on the lowest heat. It should not be simmering, just a tiny wisp of steam coming off the pan.
After 30 minutes remove the rosemary and bay leaf and add the rice and spread it out around the pan. Raise heat to high and boil for 7 minutes. Reduce heat to medium and simmer for 6 minutes. Add the fried vegetables, quartered artichoke hearts and sun-dried tomatoes to the rice and reduce the heat to medium-low. Cook for 6 minutes. By now the rice should be cooked through but not mushy and the liquid absorbed. Remove from heat and let rest for 5 minutes. Serve with lemon slices.
From the team at All Nevada Insurance, we hope that you and your family enjoy this recipe this spring! For all of your insurance needs, contact us today.