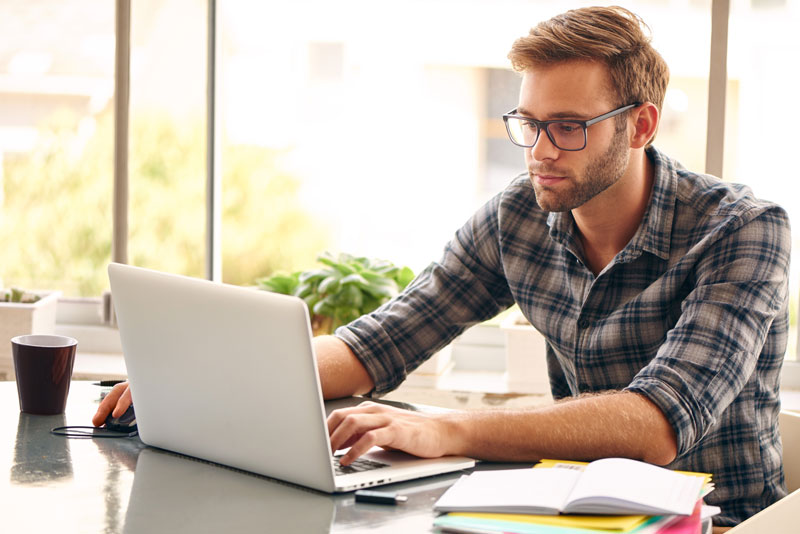 Steps to make working from home more efficient.
Working from home certainly has its benefits: you avoid a commute, you have the freedom to run errands when you need to, and digital tools make it simple to check in with your colleagues. Even so, there are quite a few challenges, too. Being distracted by domestic duties, friends, and family can result in your work suffering. To master the art of working from home successfully, read on.
Establish working hours.
This is the first step to ensuring productivity while working from home. If your employer hasn't set you hours already, do so for yourself. It's tempting to give yourself flexibility by sleeping in or taking frequent breaks, but this can only lead to unproductivity in the long run. Set yourself consistent hours to stay accountable to yourself and to your boss.
Identify what needs to get done every day.
You may think you're less accountable for the work you do when you work from home, but in reality, you should be ensuring all deadlines are met and your work is up to standard because there really is no excuse. By noting what you need to do each day, you give yourself tasks that you need to complete, whether you're distracted or not.
Get dressed.
It's tempting to work in your pajamas and slippers, but this could hinder your work. Keep to a regular routine of waking up, showering, and getting dressed – just as you would if you were going to an office. This helps to flip a switch in your brain that you're in work mode so that you focus on getting your work done.
Create an at-home office.
Sure, the couch is comfier to do work, but this could take a huge toll on your productivity. Just like getting dressed, working from a desk tells your brain that it's time for work, not relaxation. You are more likely to feel alert and organized if you work at a desk, even if it's the kitchen table.
Stay in the loop.
Remote workers lose the opportunity to pop into someone's office, so they need to be mindful to do so virtually. Checking in with your team may mean more deliberate and responsive emails, sometimes supplemented by instant messaging. It's a good way to let your team know you're working from home.
Whether you're looking for business insurance for your endeavor or you're looking for a new opportunity to start a franchise, contact the team at All Nevada Insurance today.